Riparian Planting

Back to Projects
Pomahaka Water Care Group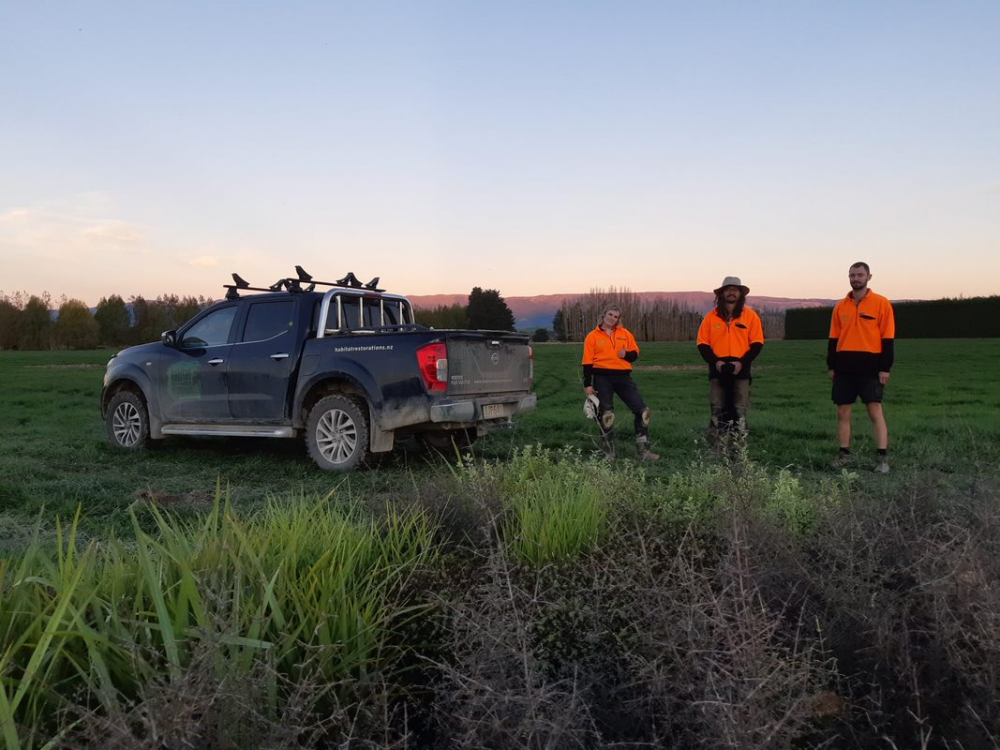 Pomahaka water care group is a collection of farmers in the West Otago region. The catchment group was launched in an effort to improve water quality in the Pomahaka river and its tributaries. One of the goals of the watercare group is to find the balance between profitable, sustainable agriculture and having a healthy ecosystem for fish life. The group has a vision to provide a pristine environment with the absolute highest water quality for future generations to swim, play and fish in and has become nationally recognised and a proven model for other catchment groups to follow.
Habitat restorations Aotearoa are improving the waterways quality in the Pomahaka catchment by planting native trees and shrubs to act as a natural filters for sediment, E. coli, nitrates and phosphates before they enter waterways. Plant guards and weed mats are used to protect the plants from wind, grazing and being grown outcompeted by invasive plants. Ongoing control of pest plant species is undertaken until the native plants are established. This is a large scale project over a two year period. Habitat Restorations Aotearoa has been contracted to plant and release maintain 200,000 native plants in the riparian zones of farms in the Pomahaka catchment, plants are sourced and supplied by the groups own nursery and by supporting the local 'Blue Mountain nursery.'
This work has been made possible by the provincial growth fund and the billion trees project which aims to plant 50km of waterways and erect up to 100km of fencing along the Pomahaka and its tributaries. Many landowners want to protect their waterways but find the costs prohibitive. The provincial growth fund provides an opportunity to support community wellbeing and build capability to drive economic action plans and create work and training opportunities.