Wetland Restorations

Back to Projects
Te Nohoaka o Tukiauau Sinclair Wetlands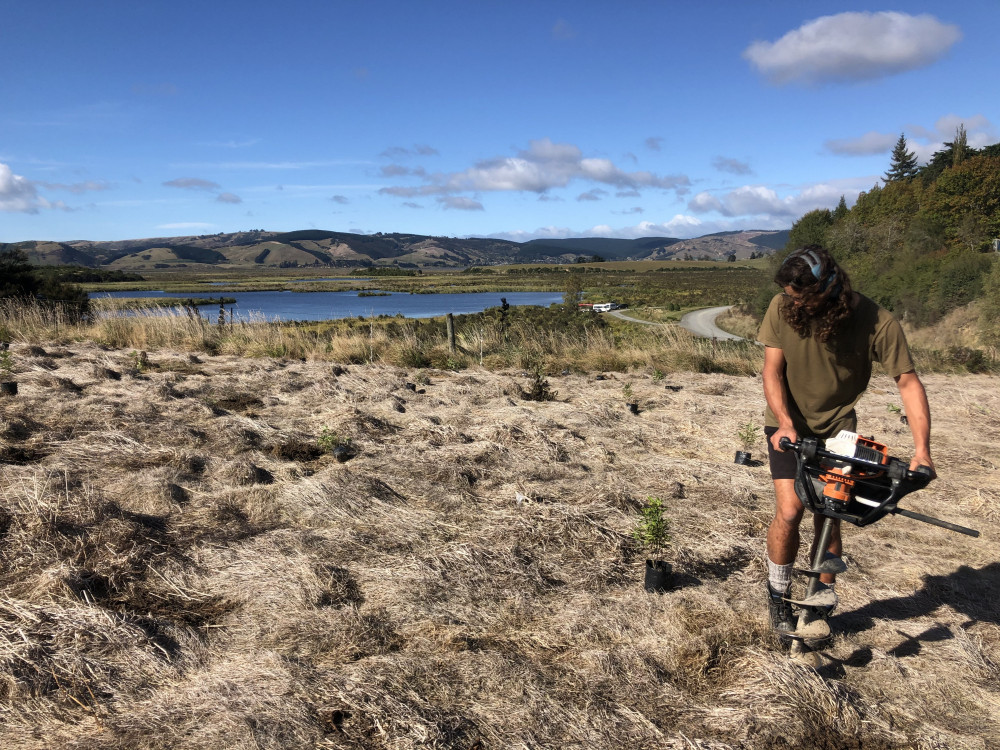 More than 90% of native New Zealand wetlands have been drained and converted to farmland and residential use, this has degraded the quality of our fresh water, increased the effects of flooding, caused biodiversity losses, and Māori have lost access to culturally important food gathering and ancestral land.
Te Nohoaka o Tukiauau Sinclair Wetlands is known as the largest and most important privately owned wetland in Aotearoa. Owned by Te Rūnanga o Ngāi Tahu, this wahi taonga (culturally significant site) is a 315-hectare wetland within the Waihola-Waipori wetland complex. The number one priority for our restoration mahi is to accelerate the health and wellbeing of the ecosystem to re enable mahinga kai practices (harvest of traditional food and resources) for hapu and iwi. The site is protected under a QEII covenant and our team has been pivotal in the restoration since 2013 with restoration plantings, weed and pest control, volunteer and education programmes, funding applications and project delivery.
Revegetation plantings
At Tenohoaka o Tukiauau Sinclair Wetlands an average of 5,000 plants are planted per year. These are planted by our staff and local schools and volunteer groups we host through voluntourism and education programmes. We raise one third of these plants by eco sourcing and propagating seeds at the on-site native plant nursery. The other two thirds of native plants are sourced from local Dunedin Nurseries (Ribbonwood Nurseries) and through a partnership with the Otago Corrections Facility. We also weave our own kete (plant pots/baskets) out of harakeke (flax) harvested using traditional practices for planting into degraded areas of the wetland.
Weed Control
Willow

Throughout the summer/dry months during times we venture into the naturally regenerating parts of the wetland to control crack and grey willow using combinations of hand pulling, cut n paste, basal bark and drill and fill methods. These hands on methods reduce the amount of chemical applied to the mahika kai site and prevents 'over spraying' which can occur from boom or aerial control. Manual weed control ensures native species aren't damaged

and it also provides a first-hand appreciation for the health of the wetlands and ability to observe natural succession, wildlife, new threats and the success of control.

Glyceria

Is a noxious weed species that can choke and clog waterways. Glyceria is traditionally has bee controlled by rigorous chemical regimes. Part of the HRA philosophy is to minimise chemical use and work with nature rather than against it, through observations and field trials we have come up with ways of establishing native plant populations within thickets of glyceria in order to 'shade it out'. This has greatly reduced chemical consumption and accelerated forward momentum and regeneration of the wetland.
Mammalian Control
(Mice, Rats, Weasels, Stoats, Ferrets, Possums, Feral cats and Hedgehogs)
We have set up and extensive network of capture and humane kill traps to control the pests at Te Nohoaka o Tukiauau Sinclair Wetlands. We have fundraised, installed and monitored an evert growing network of (currently) 250 traps including the DOC series (DOC150, DOC200, AND DOC250, Victor traps, cat trip traps and Goodnature A24 and A12, trapinator and timms possum traps.
Predator control is, in part, a collaborative effort between Habitat Restorations Aotearoa and Predator Free NZ, leading to the creation of two predator free apprentices and putting further pressure on the populations of introduced predators.
Teaching, engaging and inspiring the next generation
We deliver community outreach, volunteer and education sessions at the wetlands. Content is catered to the wide variety of different groups who attend and we receive many requests to give presentations and speak to community groups. Our staff enjoy sharing their passion and knowledge in conservation and these programmes have become very popular with over 600 school children attending each year.